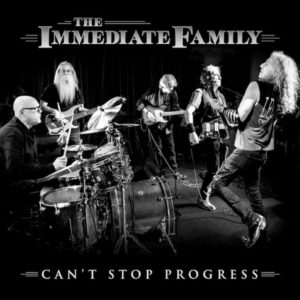 De tweede EP van The Immediate Family is de volgende stap naar het uit te brengen album en begeleidende documentaire later dit jaar.
De vijf nummers zijn in de lijn van de verwachting, lekker in het gehoor liggen bluesrock in het titelnummer Can't Stop Progress. Een fijne gitaar riff en een pakkende melodie. Het is een aangename start van wat een onderhoudende twintig minuten gaat duren. Deze keer staan er vijf nummers op de EP die nog niet eerder door andere artiesten zijn uitgebracht.Het titelnummer stond al wel op het album Turn It Up To 10 dat in 2020 alleen in Japan is uitgebracht.
Het nummer Machine Gun Kelly is ook al eerder uitgebracht, op het in 2018 verschenen album Honey Don't Leave LA, toen nog onder de naam van Danny Kortchmar And Immediate Family. Coming Through is een wat langzamer bluesnummer terwijl Easier het rustigste nummer van deze EP is. In vijf titels weten de vijf oudgedienden goed te variëren en als dit een voorbode is voor het nieuwe album dan mag dat album volgende maand al wel uitkomen. Vijf fantastische muzikanten dier de luisteraar juweeltjes voorschotelen, daar willen we er meer van.