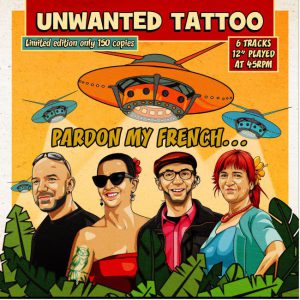 Pardon My French wil zoveel zeggen als 'let maar niet op mijn grof taalgebruik', maar bij de Belgische band Unwanted Tattoo heeft de titel nog een tweede betekenis. De band bestaat namelijk uit drie Vlamingen (Nederlandstalig) en één Waalse (Franstalig). Het is dus vooral zangeres Annette die zich bij repetities of optredens al eens moet verontschuldigen voor haar Frans. Gelukkig zingt ze heel goed in het Engels. De band bestaat al bijna tien jaar en heeft best wat succes in België, Frankrijk, Duitsland en de UK. In Nederland moet het nog een beetje beginnen voor Unwanted Tattoo, maar dat is gewoon een kwestie van tijd.
Met bassiste Rine als tweede stem krijgt deze band een heel B-52's-gevoel. Ook al omdat ze muzikaal bij die Amerikaanse band aanleunen en omdat ze net zo'n onbezorgde, ondeugende en bijna vrolijke insteek hebben. Het moet niet altijd ernstig zijn en er mag al eens gelachen worden. De lyrics zijn behoorlijk lichtvoetig, maar ook weer geen nonsens.
Je merkt dat deze band zijn roots heeft in de punkrock. Daar voegen ze nog hoge dosissen rockabilly (mss nog meer in de looks dan in de muziek), surf en garage aan toe en komen zo uit bij wat ze zelf rawk 'n roll noemen. Daarmee slaan ze de nagel op de kop: net iets ruiger dan gewoon rock. De vetste tracks zijn Jesse James, Fool On A Leash en Little Miss Betty Woop, maar eigenlijk staan er geen missers op dit album. De afsluiter Tick Tick Boom is geen cover van The Hives, maar dat kan de pret niet drukken.
Pardon My French is enkel als LP verkrijgbaar. De oplage is beperkt, dus je bent er maar best snel bij.
Omdat je via Google niet zo snel bij de band uitkomt: https://nl-nl.facebook.com/UnwantedTattoo/
De clip hoort niet bij een track van Pardon My French, maar zo krijg je toch al een beetje een idee.