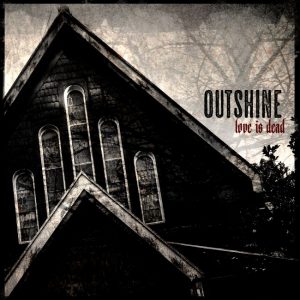 Dark Gothic Rock band Outshine from Gothenburg, Sweden is back with a single which features Jimmy Boman (Ex-Norberg), guitarist and founder on vocals and Niklas Ingvarsson on backing vocals.
With vibes from bands like Type O Negative, Sisters Of Mercy, 69 Eyes, Tiamat, Paradise Lost and with some grunge feeling into it Jimmy and Outshine is starting over after years of torment, bad deals, deceitful people and betrayals. The song represents the new world order of egoism, hate, and disbelief.
Dark rock/metal band Outshine (Gothenburg, Sweden) released "Prelude to Descent" fall 2013 with great reviews and did an Scandinavian tour with mighty Gothic Metal icons Paradise Lost in September 2013 and their 7th US tour in May 2014. The band released the brand new album "1313" February 2018 and went on an UK tour with Paradise Lost & King Goat in February 2018.
Unfortunately darkness struck the band once again and the "1313" album had to be cancelled and withdrawn due to a band member dispute so Outshine is now forced to start over once again.
The band is now releasing a first single and video for the song "Love Is Dead" with founder and guitarist Jimmy Boman (Ex-Norberg) also taking on the vocals.
The band, with various singers, has gotten great feedback throughout the years, but "Love Is Dead" is marking a direction back to the dark, gothic rock/metal roots Outshine once came from.
The new single "Love Is Dead" is recorded in Grand Recordings, Gothenburg, Sweden, the same studio which recorded the "1313" and  "Prelude To Descent" albums.