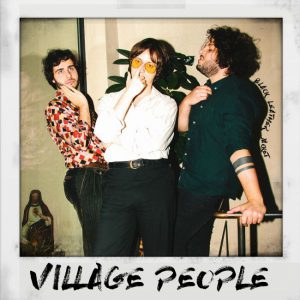 In Vlaanderen is een nieuwe generatie opgestaan van bandjes met een voorliefde voor smerige rock. SONS is er één van. Die stonden zopas nog op Eurosonic Noorderslag. Maar leg vooral ook eens uw oor te luisteren bij Equal Idiots, Tien Ton Vuist of Black Leather Jacket. Die laatste band heeft net een single uit die het beste van de Ramones en The Hives combineert. 
Black Leather Jacket stak in 2017 reeds de neus aan het venster met de EP Criminals, waar Rockportaal toen reeds potentieel in zag. Radiozender Stubru (grofweg te vergelijken met 3FM) pikte uit die EP de single Troublemaker voor de talentenjacht De Nieuwe Lichting, maar De Zwarte Leren Jekker viel toen naast het podium. Nochtans zat Troublemaker vol vuur en lef, maar – toegegeven – ook wel wat clichés.
Vandaag staat dit bandje een heel eind verder. Village People heeft al het goede van Troublemaker: branie en vuur.  Het is opnieuw een korte, semi-slordige garagerock-stamper in de beste traditie van de punk en de garagerock. Daar voegen ze nog drie dingen aan toe: sex-appeal, snelheid en een vlotte meezingbaarheid.