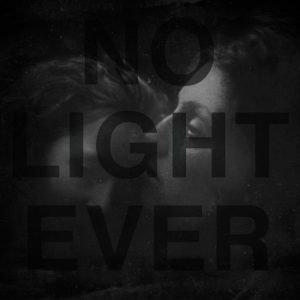 Het Amerikaanse Glacier is een vijfkoppige instrumentale post-rockband. Met No Light Ever hebben ze een knap vervolg gemaakt op  het album Though Your Sins Be As Scarlet, They Shall Be White as Snow; Though They be Red Like Crimson, They Shall Be As Wool. Dat werd in 2017 ondanks de wel heel lange titel goed ontvangen door pers en publiek. De albumtitel is in lengte deze keer een stuk bescheidener, maar inzake ambitie ligt de lat opnieuw hoog. Deze band mag dan Amerikaans zijn, hij klinkt alsof hij zo op één van de degelijke Belgische labels kan: Dunk! Records of Consouling Sounds. En ook als we bij de tracks referenties moeten plaatsen, komen we al snel bij Belgische bands uit. Al kom je ook al een eind met Cult Of Luna, Sun O))), Pelican en Godspeed You! Black Emperor.
Het album omvat slechts vier tracks. De eerste is O World! I No Longer Remain Here begint ergens bij Wiegedood meets drones en gaat dan naar Amenra. De tweede track is The Bugles Blow Fanned By Husteria en deze opent bedaard filmisch (beetje TMGS) om dan tot een stuk voorbij halfweg op dezelfde weg te zitten als onze Turpentine Valley. Daarna komt nog een hardere post-metal-passge. Ook de derde track, We Glut Our Souls On The Accursed, begint traag en cinematografisch en groeit naar sludgy post-desertrock (denk aan Lethvm) en dan naar een noise-finale met een beetje ruis.
In de vierde track, And We Are Damned Amid Noble Sound, pikt Glacier opnieuw de tempo's van Wiegedood (van verschroeiend snel naar log en traag en terug), maar zijn de gitaarpartijen minder intens, eerder, nou ja, ijzig. Toch in de snelle stukken. In de logge passages klinkt het net heel warm. Met die ene bas die diepe groeven trekt als de drie gitaristen eindelijk een beetje ruimte laten.
De Belgen hebben post-rock niet uitgevonden of op de kaart gezet, maar als Belgian Craft Beer een kwaliteitsaanduiding is voor Amerikaans bier, dan kleven we op deze No Light Ever het etiket Belgian Craft Post-Rock.
We are excited to announce our new record 'No Light Ever' will be released on vinyl later this year courtesy of Wolves And Vibrancy Records.'No Light Ever' will be in good/sad company alongside some of our favorite releases from Hundred Year Old Man, ARAKK, Heathe, Soldat Hans, 30,000 Monkies, Hypnodrone Ensemble, and Trautonist.These are dark times and things are only going to get worse. More noise to follow soon.#nolightever

Geplaatst door Glacier op Dinsdag 4 juni 2019