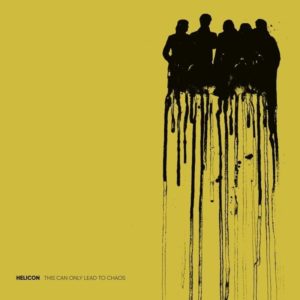 Helicon is een psychedelische rockband uit Glasgow (Schotland). Om direct maar verwarring te voorkomen en eventuele verwachting te temperen: met 'psychedelisch' wordt niet de muziek bedoeld die Pink Floyd eind zestiger jaren maakte. Net zomin als de Schotten te vergelijken zijn met Ozric Tentacles of Øresund Space Collective. Nee, John-Paul (zang, gitaar), Gary Hughes (gitaar), Mark McLure (basgitaar), Seb Jonsen (drums) en Graham Gordon (synthesizers, sitar) pakken het wat minder zweverig aan.
This Can Only Lead To Chaos is het tweede volledige album na Helicon uit 2017. Het drie nummers tellende tussendoortje Zero Fucks uit 2019 mag geen naam hebben. Op deze cd  staan negen nummers die de twee gezichten van Helicon toont. Het ene gezicht is donker, heavy, log en ruig. Soms is het alsof er een locomotief door je kamer dendert. Het andere gezicht is een stuk vriendelijker. De sitar, kenmerkend voor de muziek van Helicon, zorgt dan voor oriëntaalse sferen.
De instrumentale opener Sound Of Confession is dreigend en zet de toon voor het naderende onheil. Ook op het opvolgende Pure Filth is het pessimisme troef met een verhaal wat gaat over obsessie. Dat wil niet zeggen dat er geen momenten van optimisme zijn. Het met sitar doordrenkte The Sun Also Rises toont dat andere meer vriendelijke gezicht. Het is een goed voorbeeld dat de mannen ook een positieve draai aan hun muziek kunnen geven.
Maar Helicon verpakt ook een maatschappijkritische boodschap in hun muziek. Op het verwrongen en wervelend klinkende What You Love Will Kill You heffen de Schotten het waarschuwende vingertje naar overdaad. Het sterk psychedelische Cosmic John zorgt voor een passend experimenteel einde.
Dit album hinkt op twee gedachten. Daardoor zal het schijfje niet direct bij iedereen beklijven. Desalniettemin valt er genoeg te genieten.