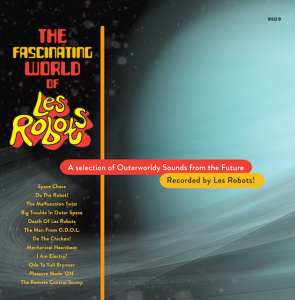 Les Robots maken muziek die ergens in de fifiies of sixties vanuit de ruimte in Nederland moet geland zijn. Zo spiegelt het promoplaatje het ons ongeveer voor. Het is niet eens zo ver van de waarheid.
De instrumentale retro-futuro-rock van Les Robots zit verdomd goed in elkaar. En de albumtitel (The Fascinating World Of Les Robots) is voor geen meter gelogen. Ze gaan van surf (Space Chase) en The Shadows (Mechanical Heartbeat) naar exotica (Death Of Les Robots) en meestal pakken ze verschillende genres zelfs in één song (The Remote Control Stomp). Dat vullen ze nog aan met spaghettiwestern-soundtracks (Ode To Yull Brynner) en soundscapes uit misschien wel 70's softpornofilms (Pleasure Mode ON).
De meeste tracks hebben vaart en zijn soms zelfs licht dansbaar, maar soms valt het ritme stil en is het meer filmisch. Dansbaar is dan voor wie nog de twist en de funky chicken kan dansen. The Malfunction Twist maakt zijn naam ook al waar: het is een twist maar je danst je hierop een been uit. Heel leuk ook hoe ze heel consequent zijn met die retro-space-geluidjes: precies zoals ze die in de fifties en sixties gebruikten, met vermoedelijk een theremin en ander analoge toestanden.  De instrumentale composities zijn soms wat kort, meer bijzonder efficiënt en catchy.
Het retro-futuro-gehalte ligt er heel dik op en dat was uiteraard ook de bedoeling. Dat The Fascinating World Of Les Robots enkel op vinyl uitkomt, past ook volledig in dat verhaal. Dit is een heel vermakelijk album. Het verveelt voor geen seconde. Meer nog, het is verslavend.
Het release-feestje voor dit album is op zaterdag 12 oktober in Rotown in Rotterdam.
https://lesrobots.bandcamp.com/?mc_cid=33fb6af319&mc_eid=0d530f3939