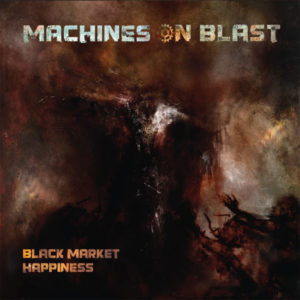 Evan Mitchell startte in 2013 met wat het huidige Machine Blast is. Steeds meer muzikanten werden toegevoegd zodat het nu een volwaardige band genoemd kan worden. COVID-19 heeft deze industrial metallers niet belemmerd om dit jaar een nieuw album op te nemen.
De tracks zijn aardig gevarieerd van klank en invloeden. This Warm Embrace heeft een lekkere groove. Living The Lie is dan weer iets meer synth en goth gedreven. Op Fake The Cure horen we in de riffs de invloed van Fear Factory het sterkste terug. The Chosen Failure doet me soms denken aan hoe het zou klinken als James Hedfield in een industrial band zou zingen. Untruths and Imperfections en The Proclamation doen me qua vocals en baslijntjes wat denken aan Korn. Die verschillende invloeden verspreiden zich verder over de andere tracks.
Je leest het al een beetje door de regels door. We kunnen stellen dat we hier te maken hebben met een vlotte industrial metal plaat die fans van bands als Static-X, Rob Zombie en Fear Factory zeker zal aanspreken. Liefhebbers van traditionele industrial als Laibach, KMFDM zullen dit te metal en te ''pop'' vinden. Een deel daarvan is ongetwijfeld toe te schrijven aan de inbreng van Henrik Udd (engineer, producer). Hij werkte eerder met bands als of Bring Me the Horizon, Architects, Powerwolf. Dat kun je verdomd goed terughoren want het klikt opvallend gelikt. Dat is dan gelijk een sterkte en zwakte. Dat geluid maakt alles zo glad dat de casual fans het een lekkere plaat zullen vinden. Echter, voor verstokte, meer old skool industrial fans is het vast wat te  commercieel.
Gevarieerd, hoogstaand geproduceerd en vol groove is dit absoluut het type industrial metal wat mij persoonlijk wel kan bekoren.