Als ik vanavond voor de Effenaar op pad ga om foto's te schieten, is dat van het Nederlandse Navarone. Een band die momenteel als een speer omhoog schiet na DWDD en natuurlijk een ijzersterk optreden op Noorderslag. Ik weet dat ik heel beknopt "70's psychedelische rock in een 2013 jasje" kan verwachten, maar het is aan de band om me zometeen te overtuigen in een live ontmoeting…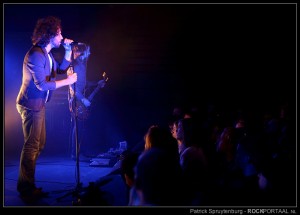 Zonder voorkennis van albums of nummers duurt het echter niet lang voordat de band rondom frontman Merijn zich voor me weet te winnen. Het is alsof ik in een flash-back zit van bands als Deep Purple, Led Zeppelin, The Doors en ga zo maar door. De diversiteit is volop aanwezig: uptempo rock nummers worden afgewisseld met ingetogen stukken en lange psychedelische instrumentale intermezzo's. Die goede oude tijd waarin muzikale meesterstukjes werden geschreven komt opnieuw tot leven. Toch is de band geen copycat van de hierboven genoemde bands van weleer, ze gieten de nummers duidelijk in een modern jasje en weten zo het beste van twee werelden te laten herleven.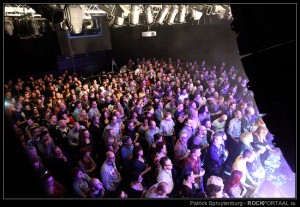 Mooie hoogtepunten in het optreden zijn wanneer beide gitaristen Roman en Kees tegen elkaar mogen duelleren. De respons vanuit een uitverkochte kleine zaal van de Effenaar liegt er niet om: hier is een heel mooi feestje aan de gang. Sfeer in de zaal is gewoon uitmuntend te noemen. Deze bereikt een hoogtepunt wanneer in de intro van het volgende nummer "Child in Time" te ontdekken is. Helaas zonder het prominente orgelriedeltje, maar dat mag de pret niet drukken. Gaandeweg wordt duidelijk dat dit nummer niet te verbeteren is, maar deze cover is er wel een om kippenvel van te krijgen!
Een concert waar ik nieuwsgierig naar binnen ging, en enthousiast weer naar buiten stap. Eentje, waar ik met plezier op terugkijk en niet snel ga vergeten. Een band die ik zeker nog een keer live aan het werk wil horen!