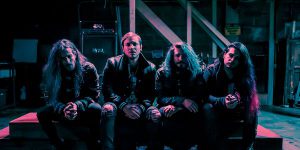 Stop Calling Me Liberty is de nieuwe video van Sifting. Deze progressieve metalsensatie brengt op 27 september het nieuwe album The Infinite Loop uit en uit betrouwbare bron heb ik al vernomen dat het album waarschijnlijk in menig jaarlijstje zal voorkomen.
Het album is geproduceerd door Steve Evetts (The Dillinger Escape Plan, Suicide Silence, Poison the Well) en gemixt door Jamie King (Between The Buried And Me, The Contortionist). Daarnaast is er nog een gastbijdrage van Derek Sherinian (Sons of Apollo, Dream Theater) te vinden.
"Stop Calling Me Liberty is a song we wrote about The Statue of Liberty" zegt frontman  duardo Osuna Gil. "Every day our country is pushed further apart, divided by the partisan politics and nothing gets done for the people. I often think about the Statue of Liberty and how she is a magnificent symbol of liberty and unification watching over our country from Liberty Island. If she could speak to us today, what would she say? I don't really think she would be pleased. I think she'd be pretty damn pissed off."
De vorige video A Critical Affair kreeg meer dan 100.000 views op YouTube in de eerste twee weken.