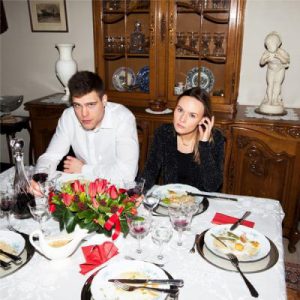 Het snedigste van The Hives, de catchy punk van The Spanks en de noise en fuzz van King Gizzard & The Lizard Wizard. Dat vat zo ongeveer het debuutalbum Family Dinner van SONS samen. Hoewel ze zich laven aan belegen wijnen uit oude vaten waar eerder punk, garage en psychedelica uit getapt werden, klinken deze Vlaamse jonkies alsof ze net zelf de allereerste elektrische gitaar in een versterker geplugd hebben. Zo gretig dat het geen naam heeft, maar ze weten wel verdomd goed waar ze wel of net niet naartoe willen met hun rollercoaster.
Songs als Ricochet, Naughty, Tube Spit en Waiting On My Own razen als een dolle voorbij. Op de zeldzame 'ingehouden' momenten, zoals op Do They See Me, mixen ze The Grateful Dead met vintage Black Sabbath in een bad van drone. Alleen op Sneaky Snake halen ze pas echt de voet van het gaspedaal. Hoefde niet, want deze track levert enkel punten op voor durf, sfeerzetting en kwetsbaarheid. En daar zijn zoveel andere bands al net iets beter in.
Gitaarrock is al meermaals dood verklaard en zelfs begraven (onder dikke lagen rap en urban). Met dit Family Dinner als infuus kunnen we weer een tijdje voort. Schuif maar aan en laat het smaken!