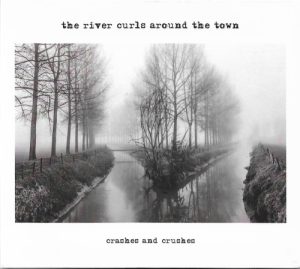 Het voorlopig laatste album van het Tiense studioproject is een feit.

Een elegante en mysterieuze mengeling van elektronica en luisterpop. Muzikanten Bart Bekkers en Jan Vanwinckel uit het Belgische Tienen spelen beide in de rockband Gudinov maar werkten tussendoor aan dit prachtige project.

In 2008 kwamen de heren met het eerste album More Than A Break. In 2020 kwam dan eindelijk de opvolger Nightshadows. Het nieuwe album is eigenlijk een dubbelalbum, de 17 nummers zijn verdeeld over een kant A Crashes en een kant B Crushes. Het deel crashes omvat de eerste negen nummrs. De teksten gaan over het falen van het lichaam, de geest en bij uitbreiding de samenleving. Crushes gaat dan weer over relaties en interacties tussen mensen.

De nummers zijn een aangename mengeling van elektronica, pop en spoken word. Een verrassende cover van het Eurythmics nummer Here Comes The Rain Again geeft het nummer een hele andere lading. Het nummer wordt prachtig gezongen door de eveneens uit Tienen afkomstige Anne Mahaignul (The Advantage).

Voorlopig is dit het laatste album van The River Curls Around The Town. Beide heren willen zich storten op Nederlandstalig werk onder de naam De Rivier.

Het album kent invloeden van onder andere Pink Floyd, Brian Eno, Daniel Lanois, At The Close Of Every Day en Massive Attack om maar eens een paar namen te noemen. Maar bovenal beschikt de band over een eigen herkenbaar en origineel geluid. Dit album moet zeker een keer beluisterd worden!