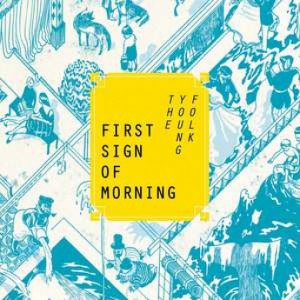 Het tweede album van deze alom gerespecteerde Ierse folksband is een feit.
Na de grote doorbraak in 2014 wist The Young Folk Ierland en Nederland te veroveren. In Nederland werd al twee keer voor een uitverkocht Paradiso gespeeld. Ook is de band diverse keren op de Nederlandse televisie geweest. In thuisland Ierland ging de band de battle aan met de rockers van Thunder, en werd er samen met Maggie Reilly een nummer uitgevoerd. De band bestaat uit zanger/gitarist Anthony Fury, zanger/toetsenist Paul Butler, bassist/mandoline- en banjo speler Tony McLoughlin, trombonist en synthesizer Alex Borwick en drummer Patrick Hopkins. Op het nieuwe album First Sign Of Morning brengt de band elf nieuwe folk nummers. Soms stevig, dan weer rustig. Hier en daar doet het zelfs denken aan een band als Mumford And Sons.
De single Home heeft een aanstekelijk ritme;, en is een goede keuze om de band te presenteren aan het grote publiek. First Sign Of Morning gaat over het overlijden van de negenjarige Aoife. Toch is het geen triest nummer, net als in de andere nummers zit er iets van vrolijkheid in. De nummers zijn opgewekt en liggen lekker in het gehoor. Carry On begint traag, met zang en piano. Olivia Leaves is ook al zo'n nummer met een trieste tekst, rustig gezongen met een akoestische gitaar als begeleiding.
Het album staat vol aanstekelijke nummers en is absoluut een luisterbeurt waard. Alle nummers zijn door de band zelf geschreven, en opgenomen in zes maanden tijd in de Orphan Recordings, in Dublin. Er staan voorlopig alleen optredens in Ierland gepland.