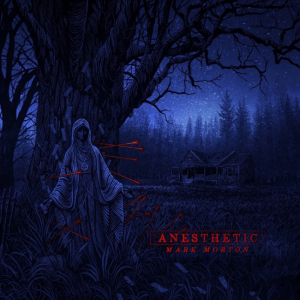 Eind vorig jaar wisten we bij Rockportaal al te melden dat Mark Morton, de gitarist van Lamb Of God, zijn soloalbum Anesthetic op 1 maart 2019 uit zal brengen met daarop een flink aantal gasten waaronder wijlen Chester Bennington. 
De compositie Cross Off met Chester Bennington gaat nu vergezeld van een video. Het betreft de tweede single van het album.
Cross Off is opgenomen in april 2017 en is geschreven door Mark Morton, Chester Bennington, Jake One en producer Josh Wilbur. Mark nam alle gitaren op met Paolo Gregoletto en Alex Bent (Trivium) speelde daarbij bas en drums. Het trio schreef de compositie voordat ze ermee naar Chester gingen. Chester vond het zo'n goede compositie dat hij meteen naar de studio kwam met wat nieuwe ideeën en de tekst.
Mark Morton :" It was a very free flowing and natural process. We both really loved the song from its inception and everyone that worked on it put a lot of energy and emotion into it. I feel like you can really hear that in the track, and absolutely in Chester's performance."
Over het album zegt hij:  "This album wasn't a concerted effort to start something outside Lamb of God. Music is always in my head, and until I write and record it, it's stuck there. But once I record it, it's out. It's a catharsis, more for my own sanity." 
Singers on the album include Chester Bennington, Randy Blythe, Jacoby Shaddix, Myles Kennedy, Alissa White-Gluz, Mark Lanegan, Chuck Billy, Jake Oni, Josh Todd, Mark Morales and Naeemah Maddox.
Musically, Morton performs all guitars, with Roy Mayorga, David Ellefson, Ray Luzier, Paulo Gregoletto and Alex Bent, Mike Inez, Jean-Paul Gaster, Steve Gorman and Marc Paul rounding out the band.
ANESTHETIC Tracklisting:
1. "Cross Off" (feat. Chester Bennington)
2. "Sworn Apart" (feat. Jacoby Shaddix)
3. "Axis"  (feat. Mark Lanegan)
4. "The Never" (feat. Chuck Billy + Jake Oni)
5. "Save Defiance" (feat. Myles Kennedy)
6. "Blur" (feat. Mark Morales)
7. "Back From The Dead" (feat. Josh Todd)
8. "Reveal" (feat. Naeemah Maddox)
9. "Imaginary Days"
10. "The Truth Is Dead" (feat. Randy Blythe + Alissa White-Gluz)