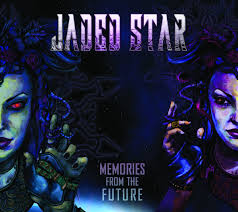 Goedemorgen! Dat gevoel krijg je na één seconde luisteren naar Jaded Star. De band rondom zangeres Maxi Nil presenteert een goeie mix van stevige gitaar met prima zanglijnen op het album Memories From The Future.
Die opener waar ik het over had, The Mask, is misschien wel direct het beste voorbeeld van de plaat. Intro met stevig gitaar werkt gevolgd door een couplet met prachtige, bijna engelachtige zang en vervolgens een bruggetje waarin bijna gerapt wordt.
Mijn eerste gedachte bij deze plaat was: 'Within Temptation', maar al snel had ik door dat de bands minder op elkaar leken dan ik dacht. Tuurlijk, het is symfonische metal met een pittige frontvrouw, maar het is veel minder melancholisch, zelf een stukje rauwer en de band experimenteert graag met elektronische invloeden. Getuige het beste liedje van deze plaat, Stars.
Toch krijg ik sterk het gevoel dat Jaded Star niet de vertaalslag kan maken om hun genre opnieuw op de kaart te zetten. Het blijft teveel hangen in alles dat we toch al kennen. Het is een prima album, niet meer en niet minder.