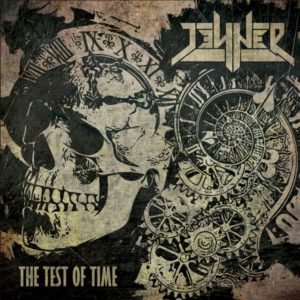 Old school heavy metal uitgevoerd door een all-girl band afkomstig uit Servië.
Jenner verraste in 2017 met het debuut album To Live Is To Suffer. Het album werd overladen met goede reacties en de band trok rond om op diverse podia te spelen. Nu, drie jaar later is er weer nieuw materiaal, en een nieuwe samenstelling van de band.  Zo is bassiste Katarina Henc toegetreden tot de band, die verder nog bestaat uit leden van het eerste uur Marija Dragićević op drums en Aleksandra Stamenkovic op gitaar. En met ingang van 2019 is Stamenkovic tevens de zangeres van de band die vanaf dat moment door gaat als trio in plaats van als kwartet.
Op de nieuwe EP staan twee eigen nummers en een cover. Als openingsnummer dendert Night Without A Dawn door de luisterruimte, gevolgd door het snelle en stevige Test Of Time. De band speelt melodieus en in een hoog tempo. Stamenkovic kan moeiteloos schakelen van donkere, rauwe grunts naar een prettiger stemgeluid.
De EP wordt afgesloten met het nummer Young And Proud, een nummer van Demoniac, een band uit het Joegoslavië van de jaren tachtig. De band speelt krachtig en vol energie, de bandwisselingen hebben goed uitgepakt.