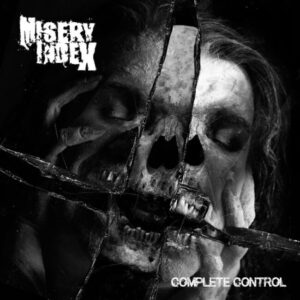 De deathmetalband Misery Index is terug met een nieuw album. Het heeft de titel Complete Control en zal door Century Media Records uitgebracht worden op 13 mei 2022
Complete Control is gemixed door Will Putney (Fit For An Autopsy) en ook door Jens Bogren onder handen genomen.
Misery Index bassist en zanger Jason Netherton zegt over het nieuwe album : "We are super stoked to present our new album 'Complete Control' – a pandemic-spawned 9-track opus of vitriolic death metal which draws heavily on our enduring brutal hardcore and grindcore influences. We tracked the album in September and October of 2021, and it was subsequently mixed by Will Putney prior to being mastered by Jens Bogren at Fascination Street studios. The cover features the visceral, uncanny work of visual artist Matt Lombard, which to us hammers home the contradictory forces of control and chaos which define our modern age. The album's central lyrical themes focus on these competing forces of control and chaos; they interrogate 'power' as something that is not always wielded with brute force in the modern age (through violence), but moreso as a control-society where it manifests on a self-governing, individual level. ALSO, we are looking very much forward to hitting the road again this year! Starting with a run of dates with our old friends Origin and Wolf King in North America, leading into festival appearances, a West Coast US tour and an EU headliner coming later this year. Until then, see you all soon and keep hammering the nails!".
Het album is alweer het zevende album en het debuut bij Century Media Records. Bereid je voor op een riff-gestuurde aanval met een enorme energieboost dat deathmetal opnieuw lijkt uit te vinden.
MISERY INDEX – "Complete Control":
1. Administer the Dagger
2. The Eaters and the Eaten
3. Complete Control
4. Necessary Suffering
5. Rites of Cruelty
6. Conspiracy of None
7. Infiltrators
8. Reciprocal Repulsion
9. Now Defied!
Voor de eerste single moet je nog even geduld hebben, deze komt vrijdag 11 maart pas beschikbaar. Schrijf het in je agenda.
De band zal na de tour door Amerika Europa weer aandoen en je kunt ze aanschouwen onder meer op 14 augustus op het Alcatraz Festival in België.