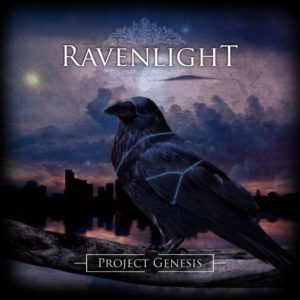 Symfonische power metal afkomstig uit Belfast, Noord Ierland.
Het debuut album van Ravenlight komt twee jaar na de oprichting. De band heeft ondertussen twee singles en een EP uitgebracht, maar nu is het tijd voor een volledig album. De band wordt in januari 2018 opgericht door zangeres Rebecca Feeney en gitarist/toetsenist John Connor.  Drummer Michal Bugajski maakt de line-up compleet.
De band heeft de afgelopen jaren flink getoerd door Ierland en daar een goede reputatie opgebouwd. De EP End Of The World brengt de band nieuwe mogelijkheden waaronder een toer met de Zweedse progressive metal band Evergrey.
De nummers van de band zijn melodische en kennen refreinen die makkelijk mee te zingen zijn tijden live shows. The End Of The World kent een drumpartij in de hoogste versnelling, maar Feeney houdt met haar vocalen de band in toom. De nummers hebben onderwerpen als angst en hoop. In drie kwartier tijd weet de band elf strakke uptempo nummers neer te zetten. In het nummer Sanctuary laat Feeney een paar hoge vocalen los, over het geweld van gitaar en drum heen.
De goed gelukte mengeling van stevige riffs en uptempo drumslagen tegenover de heldere vocalen van Feeney zorgen er voor dat er een uitermate luisterbaar album is afgeleverd dat smaakt naar meer.