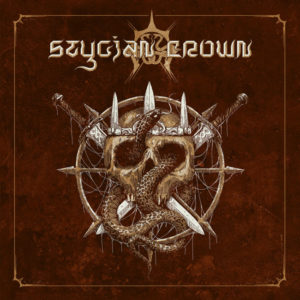 Stygian Crown introduceert met het titelloze debuut album een heel nieuw genre rock, ze noemen het zelf Candlethrower.
De term Candlethrower staat voor een mix van Candlemass en Bolt Thrower, een combinatie van death en doom metal. De band wordt in 2018 opgericht door drummer Rhett Davis (ex-Morgion, Gravehill). Hij weet zijn collega's uit Gravehill zo ver te krijgen dat ze ook meedoen, en zo komen gitarist Nelson Miranda en bassist Jason Thomas bij de band.  De band wordt aangevuld met gitarist Andy Hicks (Morbid Eclipse) en de klassiek geschoolde zangeres/toetsenist Melissa Pinion.
In 2018 komt de eerste demo uit met als titel Through Divine Rite. De drie nummers van deze demo zijn Trampled Into The Earth, Through Divine Rite en Flametongue. Alle drie de nummers komen terug op het debuut album. De andere nummers komen gaandeweg tot stand door dingen uit te proberen. Zo mag Davis graag verschillende versies van eenzelfde nummer uitproberen terwijl Pinion haar voorkeuren inbrengt door ideeën voor nummers en zanglijnen die ze schrijft op haar piano.
De nummers kennen de loomheid en zwaarte van doom nummers, maar worden doorspekt met heavy en death metal invloeden. Pinion schrijft het merendeel van de teksten, haar inspiratie haalt ze uit verschillende culturen. Devour The Dead verhaalt over de Egyptische godin Ammit en Two Coins For The Ferryman gaat over Charon, degene die de doden over de rivier Styx voert.
De vocalen van Pinion zijn perfect voor de muziek die de band speelt. Pinion heeft een lage, donkere stem en in combinatie met de loodzware riffs vormt dit een perfecte combinatie. Vanaf het openingsnummer Up From The Depths weet de band te boeien.