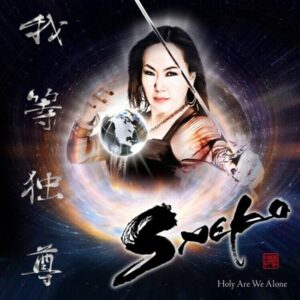 Saeko is de herrezen band van de Japanse zangeres Saeko Kitamae. Dankzij een succesvolle crowdfunding kon ze na een break van heel wat jaren in Japan eindelijk terug naar Europa om het album te maken dat ze al zo lang in gedachten had. En wat een rollercoaster is Holy Are We Alone geworden! Je hoort meteen dat Saeko's hart nog steeds klopt voor (power)metal, maar haar muzikale spectrum gaat breder dan dat.
Holy Are We Alone is een conceptalbum in die zin dat elke track een land vertegenwoordigt. En voor elk land is Saeko eerst gaan praten met één of meer inwoners en die persoonlijke verhalen zitten in de lyrics. Ze zingt in het Engels, Duits, Sanskriet, Hawaiaans, Japans, … Soms zitten er wat typische muzikale kenmerken van een land in de tracks, maar Saeko heeft toch de moeite genomen om voorbij de clichés te kijken. Nederland zat niet in Saeko's lijstje. Dat kan zeker nog op een volgend album met hetzelfde concept. Er is wel een link met Nederland: de foto's voor het artwork werden genomen door Jeroen Aarts. Hij kreeg eerder al o.m. Halestorm, Kobra And The Lotus, Epica, Twelve Foot Ninja en The Agonist voor zijn lens.
Saeko heeft nog steeds een mooie stem met veel kracht en volume. De band heeft ze met veel zorg samengesteld: de Italianen Guido Benedetti (gitaar, keyboard/Trick Or Treat) en Alessandro Sala (bas/Rhapsody Of Fire) en de Duitser Michael Ehre (drums/Primal Fear, Gamma Ray, … ). De Amerikaan Derek Sherinian (Alice Cooper, Dream Theater, Ayreon, …) speelt een indrukwekkende synth-solo op Russia: Heroes.
Eén van de betere nummers is Germany: Rebellion Mission, net als UK: Never Say Never (met een kort stukje uit de traditional What Shall We Do With The Drunken Sailor). Als je nu denkt dat het concept van de wereldreis voor te veel ballast zorgt, kan ik je geruststellen. Er zit meer dan genoeg vlees aan het been voor de liefhebber van powermetal, zowel in de muziek als in de lyrics.
We hebben lang moeten wachten op Holy Are We Alone. Dit album bewijst dat geduld beloond wordt.