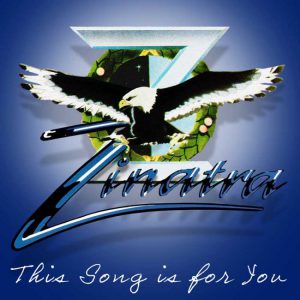 De Limburgse hardrockband Zinatra heeft een nieuwe single uit, zowat 27 jaar na de split van de band. Het is niet meteen duidelijk of er nog meer studiowerk volgt en of de band opnieuw live gaat spelen.

Zinatra werd opgericht in 1986. In 1988 brachten ze hun debuutalbum (Zinatra) en hitsingle Love Or Loneliness uit. De band mag als support mee op de Europese tournee van David Lee Roth en heeft ook best wat succes in China, Thailand, Taiwan en Zuid-Amerika. In eigen land loopt het net iets minder vlot, maar in 1990 staan ze wel mooi op Bospop en ze halen met twee singles de Top 40. Robby Valentine zit kort in de band als toetsenist en schrijft nummers voor het tweede album, The Great Escape, maar stapt snel daarna uit de band om zijn solocarrière te beginnen. Na het tweede album stopt de band in 1992 helemaal en vervolgt ieder bandlid z'n eigen weg. Zanger Jos Mennen startte z'n eigen band Mennen en deed vorig jaar mee op het debuutalbum van de Britse band Nitrate met Nick Hogg, Rob Wylde (Midnite City, Tigertailz) en Pete Newdeck (Midnite City, Eden's Curse, Blood Red Saints).

In 2004 werd van Zinatra nog een omvangrijk verzamelalbum uitgebracht. Nu is er plots de reüniesingle This Song Is For You. Dit was een 'oude' demo die nooit in een definitieve versie op een album is verschenen, uit de tijd dat Zinatra-leden Ron Lieberton en Kelly nieuwe liedjes schreven voor de band. Fans zijn altijd blijven hopen op een Zinatra-reünie en nu wilde het toeval dat Joss en Ron elkaar tegen kwamen en tot de conclusie kwamen dat het tijd was om eens een reünie single uit te brengen. Het 'nieuwe' nummer werd in een nieuwe, licht gewijzigde bezetting opgenomen en werd op 21 juni uitgebracht door Rock Inc. This Song Is For You is een powerballad met veel pathos en klinkt dus als vintage-Zinatra. Eentje voor de fans van vroeger of een nieuw begin?