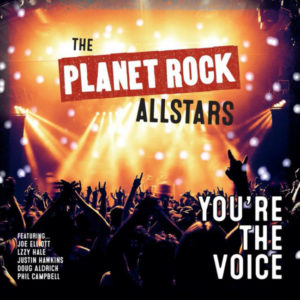 Een samenwerkingsverband van vele grote namen met het doel om geld in te zamelen voor Mind, een organisatie voor geestelijke gezondheid.
In 1986 was You're The Voice een grote hit voor John Farnham, in 2019 komt Wyatt Wendel met het idee om er een 'rocked-up' versie van te maken. De vraag of het een betere versie is geworden kunnen we achterwege laten, het gaat hier om het doel, niet om de uitvoering. En zoveel is er niet veranderd ten opzichte van het origineel behalve dat het inderdaad een steviger versie geworden is. En het is mooi om te zien dat zoveel grote artiesten daar dan hun bijdrage aan willen leveren.
Zo doet onder andere Alice Cooper mee, en ook Joe Elliott (Def Leppard), Lzzy Hale (Halestorm), Chris Robertson (Black Stone Cherry), Charlie Starr (Blackberry Smoke), Justin Hawkins (The Darkness), Nathan James (Inglorious), Jared Johnston (Blackberry Smoke), Doug Aldrich, (The Dead Daisies), En nog veel meer.