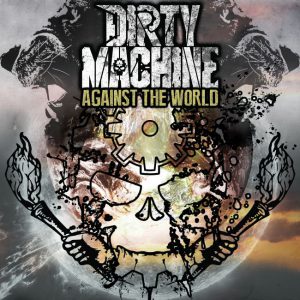 Een jaar na het debuut Discord komt het Californische Dirty Machine met nieuw werk in de vorm van de single Against The World. Het debuutalbum werd gekenmerkt door een energieke en frisse sound.
"Discord is een heerlijke mix van het hip-hopgenre met sterke groovende metal zoals we dat in de nu-metal mogen verwachten. Dit debuut van Dirty Machine mag, zeker na een half jaar, nog wel even de nodige aandacht krijgen met opzwepende en groovende composities." (Rockportaal)
Frontman, David Leach  "Against the World" is an anthem for any athlete, artist or individual being held back from their dreams. Nowadays it's so easy to walk away from your goals and aspirations, in fear of financial ruin or just simply not making it. When in reality, the people who are holding you back are right in front of your face."
Dirty Machine is hevig geïnspireerd door bands uit het nu-metalgenre zoals KoRn, Slipknot, Mudvayne en Sevendust en bouwt een aardige fansschare op sinds de oprichting in 2012. De band tekende een wereldwijde deal met Zombie Shark Records en is het afgelopen jaar door Alternative Press nog uitgeroepen als één van de beste tien "up-and-coming heavy bands you need to check out".